HOLDEN HOUSE RECIPE OF THE MONTH (October)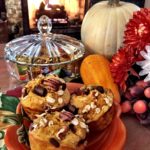 Autumn Harvest Chocolate Chunk Pumpkin Pecan Muffins
1 ¼ cups oats
1 cup flour
1 tsp. cinnamon
½ tsp. each salt, nutmeg and baking soda
1/3 cup pecans, chopped
½ cup chocolate chunks (chocolate chips can be substituted)
1 cup pumpkin puree
¾ cup brown sugar
½ cup oil
1 egg
¼ cup milk
1 tsp. vanilla extract
Streusel Topping:
¼ cup oats
¼ cup flour
¼ cup brown sugar
2 Tbsp. pecans, chopped
¼ cup butter or margarine
Instructions: Preheat oven to 400 degrees and prepare 12 muffin cups spraying well with non-stick coating. Combine oats, flour, cinnamon, spices and pecans in large bowl and set aside. In medium sized bowl, combine pumpkin, brown sugar, oil, egg, milk and vanilla. Stir into dry ingredients until moist. Pour evenly into prepared muffin cups.
Streusel topping: Combine oats, flour and brown sugar. Cut margarine into dry ingredients. Mix in pecans. Sprinkle over muffin batter. Bake 20-25 minutes or until topping is golden brown. Makes 12 muffins. *We bake at high altitude, so adjustment for lower elevation may require reduced baking time.