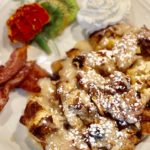 Jenny's Breakfast Bread Pudding
Prep Time: 20 minutes and Cook Time: 1 hr 10 mins (includes the sauce)
Yield: 6 – 8 Persons
Ingredients-The Bread Pudding
1 loaf fresh or stale French bread
6 Eggs
2 cups Milk
½ cup/ 100 g Sugar
1 Tablespoon Apple Pie Spice
1½ teaspoon Vanilla Extract
1/3 cup Raisins
1/3 cup Slivered Almonds (slightly toasted)
1 cup chopped and diced Peaches (fresh or frozen)
2 peeled, cored and chopped Apples
1 stick / 110 g / 4 oz Butter
The Vanilla Sauce
1 stick / 110 g / 4 oz Butter
1 teaspoon Vanilla
1 cup / 230 ml Evaporated Milk
1 cup / 200g Sugar
Instructions
To make the Bread Pudding
Preheat oven to 350 F and spray 13×9 rectangle pan w/vegetable spray. Melt stick of butter in pan and set aside.
Tear bread into small (not tiny) pieces, into a large mixing bowl.
In a medium sized mixing bowl add milk, eggs, and sugar; mix well.
Add vanilla and spice to egg and milk mixture; mix well. Pour egg mix over bread and mix with clean, gloved hands.
Add apples, peaches, raisins, and almonds; gently mix in with hands. (Tip: lightly dredge these ingredients in flour to help them "float" in the bread pudding)
Scoop the above mixture into pan with a slotted spoon and drizzle with the cooled, melted butter.
Bake for about 1 hour until golden brown.
To Make The Sauce:
In a small saucepan melt butter, add sugar & evaporated milk.
Stir constantly and bring to a rolling boil; cook on medium heat for 3-10 minutes, stirring constantly until thickened (mixture scorches easily).
When thickened, removed from heat and then add the vanilla extract. (When added over high or constant heat, vanilla evaporates).
Serve warm/hot over bread pudding. As this mixture cools, it becomes too thick to pour. I serve in a small microwave safe glass pot and reheat as necessary.