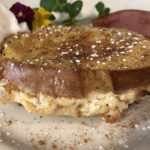 This delicious breakfast treat is sure to please guests!
Ingredients:
About 14 slices of Texas Toast OR
1 (1-lb) loaf crusty French bread
6 oz cream cheese, softened
½ C part-skim ricotta cheese
½ C apricot preserves
½ C chopped dried apricots
5 eggs
1 ¼ C milk
½ t vanilla extract
¼ t ground cinnamon
Dash of ground nutmeg
2 T butter or margarine
Orange syrup
½ stick butter
¼-1/2 C sugar (or to taste-I like the syrup a little tart because the filling is a bit sweet)
1/3 C frozen orange juice concentrate
* Use two pieces of Texas Toast or use French bread, cut into diagonal slices about 1 inch thick. Cut a pocket in each slice, cutting from top crust side almost to bottom crust side.
In small bowl beat together cream cheese, ricotta, preserves, and apricots.
Spread about 2 Tablespoons on to regular bread or if using French bread, spoon about 1 T mixture into each pocket Mix together eggs, milk, vanilla, cinnamon, and nutmeg
Spray insulated cookie sheet(s) with Pam.
Dip stuffed bread slices into egg mixture
If using Texas toast, place the slice of bread with cream cheese on to cookie sheet. Dip another slice of bread into the egg mix and place that one on top of the slice having the cream cheese.
Or melt butter in Medium skillet and cook bread over med. Heat until golden brown, turning once. Allow about 1/12 to 2 minutes for each side.
Bake at 350 for 25-30 minutes
For orange syrup, combine all ingredients in saucepan. Heat over low heat, stirring occasionally, until butter is melted. DO NOT BOIL.
Remove from heat and cool 10 minutes. Using rotary beater, beat until slightly thickened. Serve warm over Stuffed French Toast.
VARIATION: Substitute blueberry preserves for the apricot preserves. Add 1 cup frozen or fresh wild blueberries and mix gently. Stuff bread slices and proceed with recipe as directed. Serve with maple syrup.