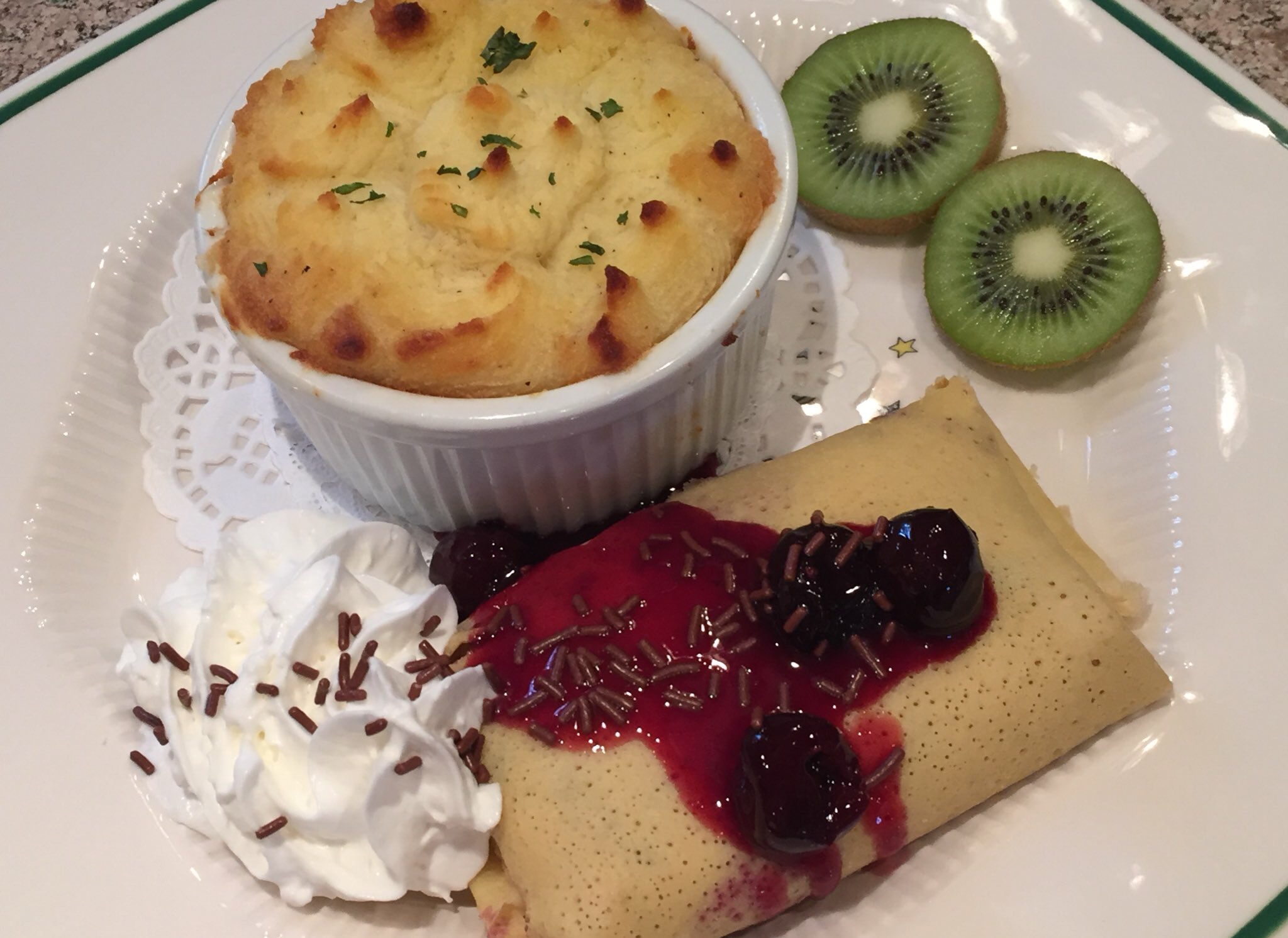 Holden House Black Forest Crepes
Crepe Recipe:
1 ¼ cups flour
2 Tablespoons sugar
Dash of salt
3 eggs
1 ½ cup milk
2 Tablespoons of melted butter
1 Teaspoon of lemon extract
Directions: Make 8-inch crepes using greased skillet or crepe maker and set aside
Filling:
2 cups fresh Bing cherries, halved and pitted
1 Tablespoon Grand Marnier
¼ cup sugar
Dash of apple pie spice
1 Teaspoon of cornstarch mixed with 1 teaspoon water
¼ cup of sour cream (room temperature)
4 oz. (1/4 package) of softened cream cheese
½ cup semi-sweet chocolate chips or chocolate chunks
Directions: Mix cherries, Grand Marnier, sugar, apple pie spice and cornstarch mixture together in saucepan over medium heat for 10 minutes or until slightly thickened. Set aside to cool.
Blend together sour cream and cream cheese until it is a smooth and spreadable consistency.
Lay each crepe flat, gently and lightly spread sour cream and cream cheese mixture over crepe, so as not to tear crepes. Evenly spoon approximately ½ inch high, cherry mixture in middle area of crepe, then sprinkle a handful of chocolate chips over cherry mixture. Fold crepe sides to middle and invert with folds placed on bottom side of plate. Place 2-3 crepes on each plate and garnish with additional cherry sauce, a sprinkle of chocolate chips, a sprig of fresh mint and several whole fresh cherries with stems. Lightly sprinkle nutmeg over crepes and top with a dollop of whipped cream.
Einfach Wunderbar! (Simply Wonderful!)
This recipe combines the delicious elements of a Black Forest Cake with the simple French crepe. My German great-grandmother would be pleased that I have brought the two nationalities together in this crepe, perfect for breakfast or dessert. It's a sweet blend of cherries, cream cheese and chocolate, sure to please any particular palate.