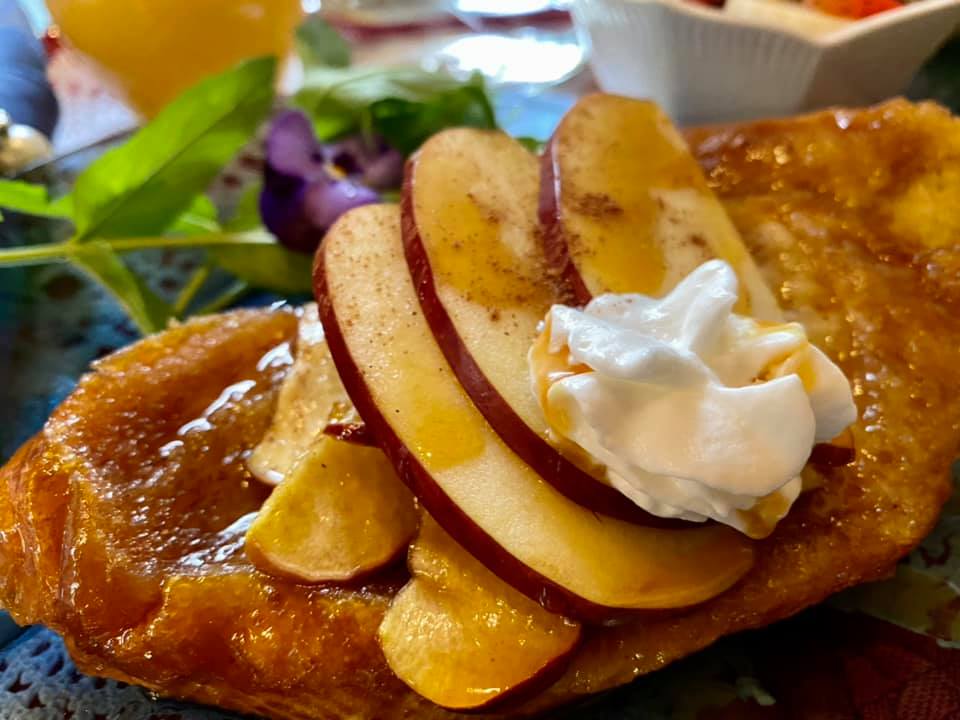 "Fresh apples add a special touch to this delicious overnight refrigerated French toast recipe! 
6 T butter
¾ cup (5.5 oz) packed light or dark brown sugar
2 T maple syrup (can substitute corn syrup or pancake syrup)
6 slices (2 in. thick) slices French bread
6 large eggs
1 cup half-and-half
2 T vanilla extract
¼ tsp salt
1 tsp cinnamon
8 oz. cream cheese –softened (can substitute Neufchatel/low fat cream cheese)
¼ cup sugar
Apple slices for layering
Whipped cream, nutmeg and additional fresh apple slices for garnish
Directions: Add butter, brown sugar and maple syrup to a microwave safe bowl and microwave for ½ minutes, until the sugar is dissolved. Stir to combine. You can also do this on the stove. Lightly grease either a 9×13 pan or individual baking dishes. Spread the brown sugar/caramel mixture in the bottom of the pan and a thin layer of fresh apple slices. In a medium bowl, whisk together the eggs, half-and-half, 1 T vanilla, cinnamon and salt. Set aside. In another medium bowl, combine the cream cheese, 1 T remaining vanilla, sugar and one egg. Make a slit in the middle of each slice of French bread. This creates a pocket for the cream cheese. Stuff an equal amount of filling into the pocket. Dip the stuffed bread slices into the mild and egg mixture. Cover the pan or dishes and refrigerate overnight. (8-10 hours). Remove the pan from the refrigerator, uncover and place in preheated oven to 350-375 degrees. Bake for 30-40 minutes, until the bread is golden and the caramel syrup is bubbling. Using a large flat spatula, flip the bread pieces over onto the plate and serve with whipped cream and fresh apple slices.  Serves six people. Enjoy!