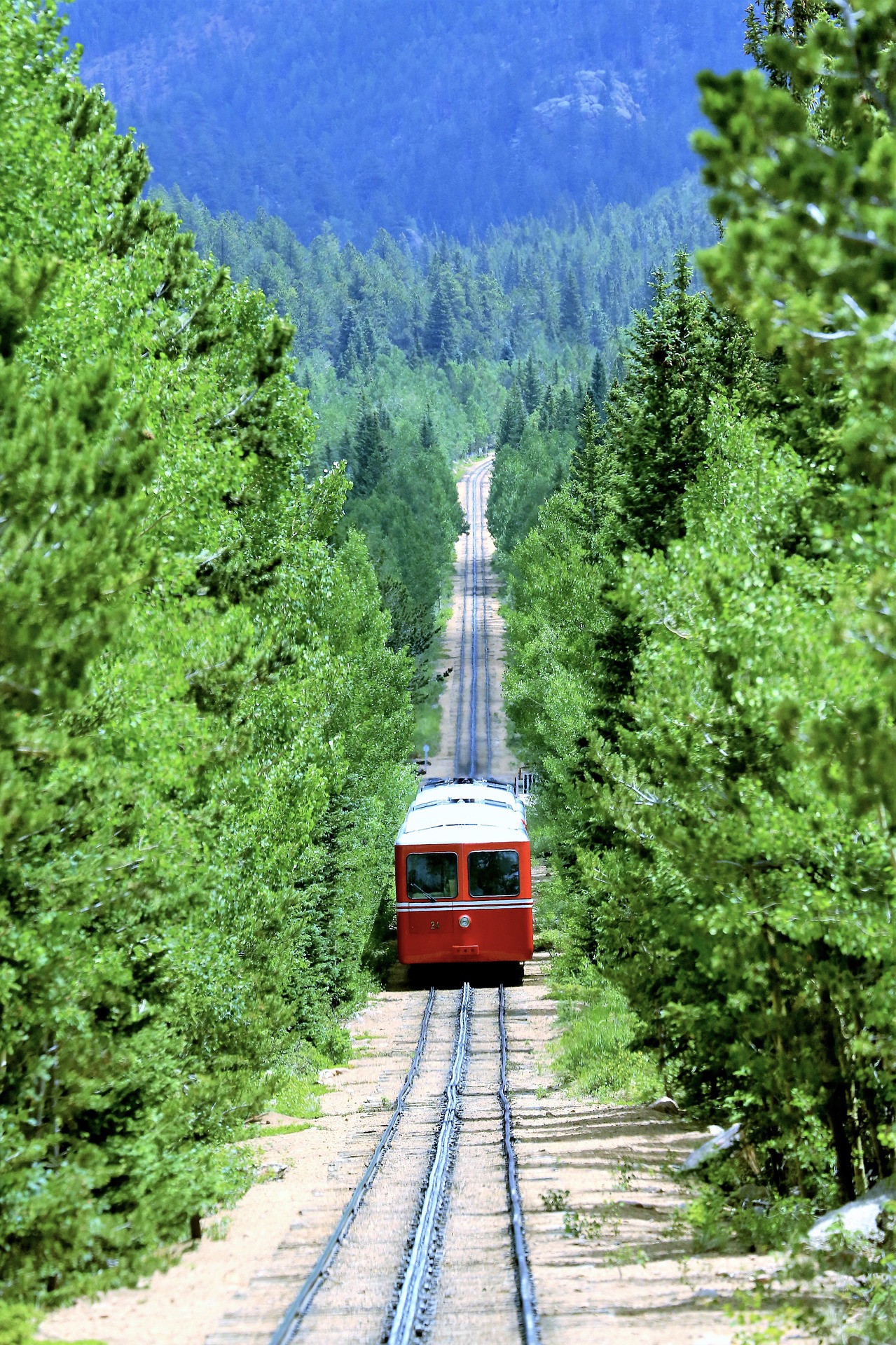 A visit to Colorado Springs is not complete without a ride on the rails on one of the area's local trains. These are must stops, especially for railroad enthusiasts and an easy drive from your basecamp at the historic boutique-style and award winning Holden House 1902 Bed & Breakfast Inn located in Colorado Springs.
Certainly one of the most well-known trains is the Broadmoor Manitou & Pikes Peak Cog Railway that winds its way up to the top of 14,110 foot Pikes Peak, known as America's Mountain. Reopened and upgraded with new cars and new track this May, the nine-mile trip provides camera enthusiasts wildlife viewing opportunities including yellow bellied marmots (also named whistle pigs), bighorn sheep, deer and more. According to local legend, author Katharine Lee Bates penned the words to the hymn America the Beautiful while standing on top of Pikes Peak, which evokes "Purple Mountains Majesties". The Cog's history began in 1889 when the Manitou and Pikes Peak Railway Company was founded. In 1925, Spencer Penrose, the owner of the Broadmoor Hotel, introduced gasoline and diesel locomotives. In 2018, the railway continuance was in jeopardy. Thanks to local support and dedication from the current ownership of The Broadmoor, the system was upgraded with new tracks, Swiss cars and has reopened to reservations and riders. A soon-to-open new Pikes Peak Summit House visitor center is planned in mid-June. For more on its historical background and to make reservations (due to high demand, advance ticket reservations are suggested) for the Broadmoor Manitou and Pikes Peak Cog Railway visit https://www.cograilway.com/
Canon City is only a 45 minute drive from Colorado Springs and offers some great local attractions including the Royal Gorge Route Railroad. While the first passenger train arrived in 1880, the Royal Gorge route served as a transcontinental connection between Denver and Salt Lake City. Today's Royal Gorge Route Railroad was reestablished in 1998. The Royal Gorge Route Railroad offers scenic photography opportunities and traverses through the Royal Gorge, known for whitewater rafting and the world's highest suspension bridge, 956 feet above the Arkansas River. There are various car options including the dome car and onboard dining. For more information, visit https://www.royalgorgeroute.com
Cripple Creek and Victor, two historic mining towns, are home to the Cripple Creek and Victor Narrow Gauge Railroad which makes its way from the station in Cripple Creek toward the town of Victor. The conductor shares a history perspective along the way. The gift shop and ticket office are located adjacent to the Cripple Creek Midland Depot, originally built in 1894 as the Anaconda station and moved to its current location in 1968. The engines are coal-fired narrow gauge engines and for train buffs, there is a glimpse of open air workings of a narrow gauge. The train features open air cars and while it's a fairly brief trip by comparison of other Colorado trains, it also offers a historical perspective, views of the mining districts and a narrative experience of one of the richest gold mining districts in the state, made famous during the 1800's gold rush. The iconic water tower was rebuilt and placed in its current location. For more information about operating hours and information, visit https://cripplecreekrailroad.com
Wherever your adventures take you, Holden House 1902 Bed & Breakfast Inn provides a great location close to everything…from museums to outdoor hiking in local and state parks, dining and shopping, to attractions and cultural adventures. Visit https://www.HoldenHouse.com today to check availability and learn more.