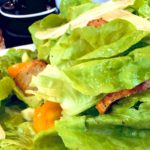 Foodies show love to small biz – Holden House innkeepers steer guests to local and close-by eateries.
Traveling can be both fun and challenging, but out of the way small-business restaurants, shops and sites can help to make your vacation, business trip or getaway that much more relaxing. For guests staying at Holden House 1902 Bed & Breakfast Inn located in Colorado Springs, foodies will love the recommendations provided by innkeepers Welling and Sallie Clark and their knowledgeable assistant innkeepers during a stay.
"It's important that as a small business, we support other small businesses and point our guests to the unique local restaurants in our area", says owner-innkeeper Welling Clark. "While there may be a level of knowing what to expect at a chain restaurant, our focus is to assist guests by enjoying a culinary experience with a local perspective."
Holden House is centrally located on a quiet tree-lined residential street on the historic Westside of Colorado Springs. It's also close to designated historic districts in Old Colorado City and Manitou Springs and downtown Colorado Springs. Upon check-in, guests are personally provided a tour of the inn's amenities which includes an introduction to a basket of local restaurant menus. Innkeepers are happy to make reservations for guests and will gladly call ahead to assure a great dining spot. Here are just a few of the Holden House innkeeper favorites.
Old Colorado City, Central/Downtown and Westside:
Italian: Paravicinis, Pizzeria Rustica, Fratelli's Ristorante and Luigi's
BBQ: Front Range Barbecue
Greek: Jake and Telly's
American: The Mason Jar
Korean: 503 W
Brewpubs: Cerberus and N3 TapHouse
Indian: Sherpa Garden
New American: The Rabbit Hole
Mexican: Amanda's Fonda
German: Edelweiss
Seafood/Steaks: Bonny and Read, Jax Fish House
Sandwiches/Lunch: Shugas
Gluten Free: Coquette's Bistro
Japanese/Sushi: Nara Sushi & Grill
Manitou Springs:
Fondue: Mona Lisa
Mexican: The Loop
Vegetarian: Adam's Mountain Cafe