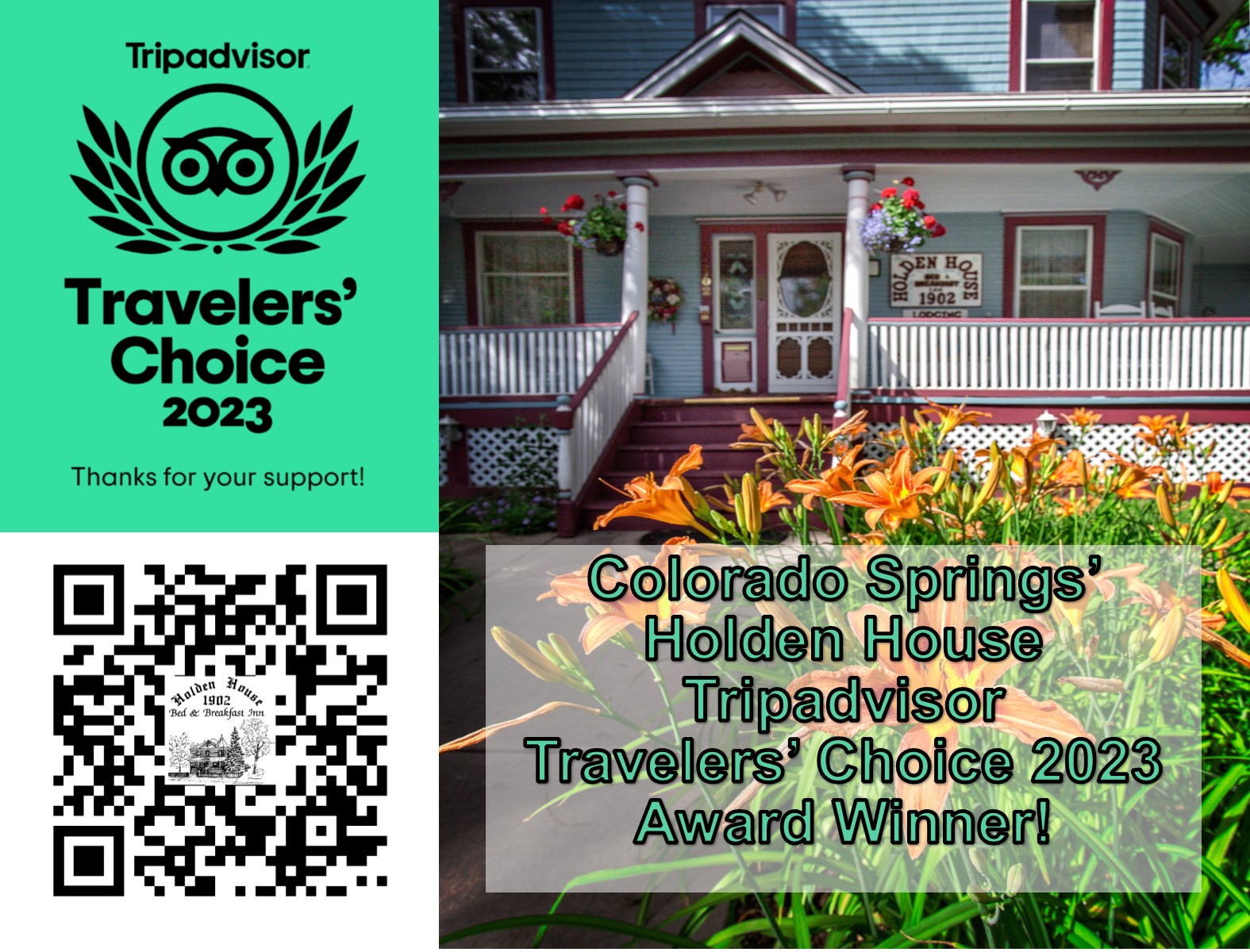 Holden House' Great Traveler Reviews Earn it a Place Among Travelers' Top 10% Favorites
COLORADO SPRINGS, CO – June 12, 2023 – The historic Holden House 1902 Bed & Breakfast Inn today announced it has been recognized by Tripadvisor as a 2023 Travelers' Choice award winner for Hotels and Inns. The coveted award celebrates businesses that have consistently received great traveler reviews on Tripadvisor over the last 12 months, placing these winners among the 10% of all listings on Tripadvisor globally.
"We are honored to have received the Traveler's Choice Award from Tripadvisor once again this year", said Sallie Clark, who with her husband Welling Clark, owns and operates the award-winning inn. "We also appreciate our guests who take the time to share high marks about their guest experiences at Holden House. This recognition means so much, especially as we celebrate our 37th year of hospitality since opening Colorado Springs first historic Westside area B&B in 1986. We strive to continue our focus to provide hospitality, food and accommodations with quality in mind everyday."
"Congratulations to the 2023 Tripadvisor Travelers' Choice winners," said John Boris, Chief Growth Officer at Tripadvisor. "The travel resurgence we've seen throughout the past year has even further heightened the competition. Earning a Travelers' Choice Award demonstrates that you have provided great experiences to those who matter most: your guests. With changing expectations, continued labor shortages, and rising costs, this is no easy feat, and I am continually impressed with the hospitality industry's resilience and ability to adapt. Cheers to another successful year!"
Check out all the reviews, and discover more about Holden House 1902 Bed & Breakfast Inn by visiting the inn's website at HoldenHouse.com and the Tripadvisor website.
About Holden House- The inn features three side-by-side Victorians and six guest suites and offers six spacious guest suites, each with private bath, sitting area, and a gourmet full breakfast is included. Special packages include an optional ensuite breakfast, fireplaces and private label amenities. Each of the suites are individually appointed with their own style; four-poster beds, oversized tubs, open Victorian turret, hand painted murals, private balconies and more. The inn caters to those seeking a romantic getaway while also providing excellent accommodations as a boutique-style inn for business travelers with free WiFi, cable TV, off-street parking, full breakfast and a convenient business center all close to the historic district of Old Colorado City in Colorado Springs and a few miles from quaint Manitou Springs.
About Tripadvisor- Tripadvisor, the world's largest travel guidance platform*, helps hundreds of millions of people each month** become better travelers, from planning to booking to taking a trip. Travelers across the globe use the Tripadvisor site and app to discover where to stay, what to do and where to eat based on guidance from those who have been there before. With more than 1 billion reviews and opinions of nearly 8 million businesses, travelers turn to Tripadvisor to find deals on accommodations, book experiences, reserve tables at delicious restaurants and discover great places nearby. As a travel guidance company available in 43 markets and 22 languages, Tripadvisor makes planning easy no matter the trip type. The subsidiaries of Tripadvisor, Inc. (Nasdaq: TRIP), own and operate a portfolio of travel media brands and businesses, operating under various websites and apps.