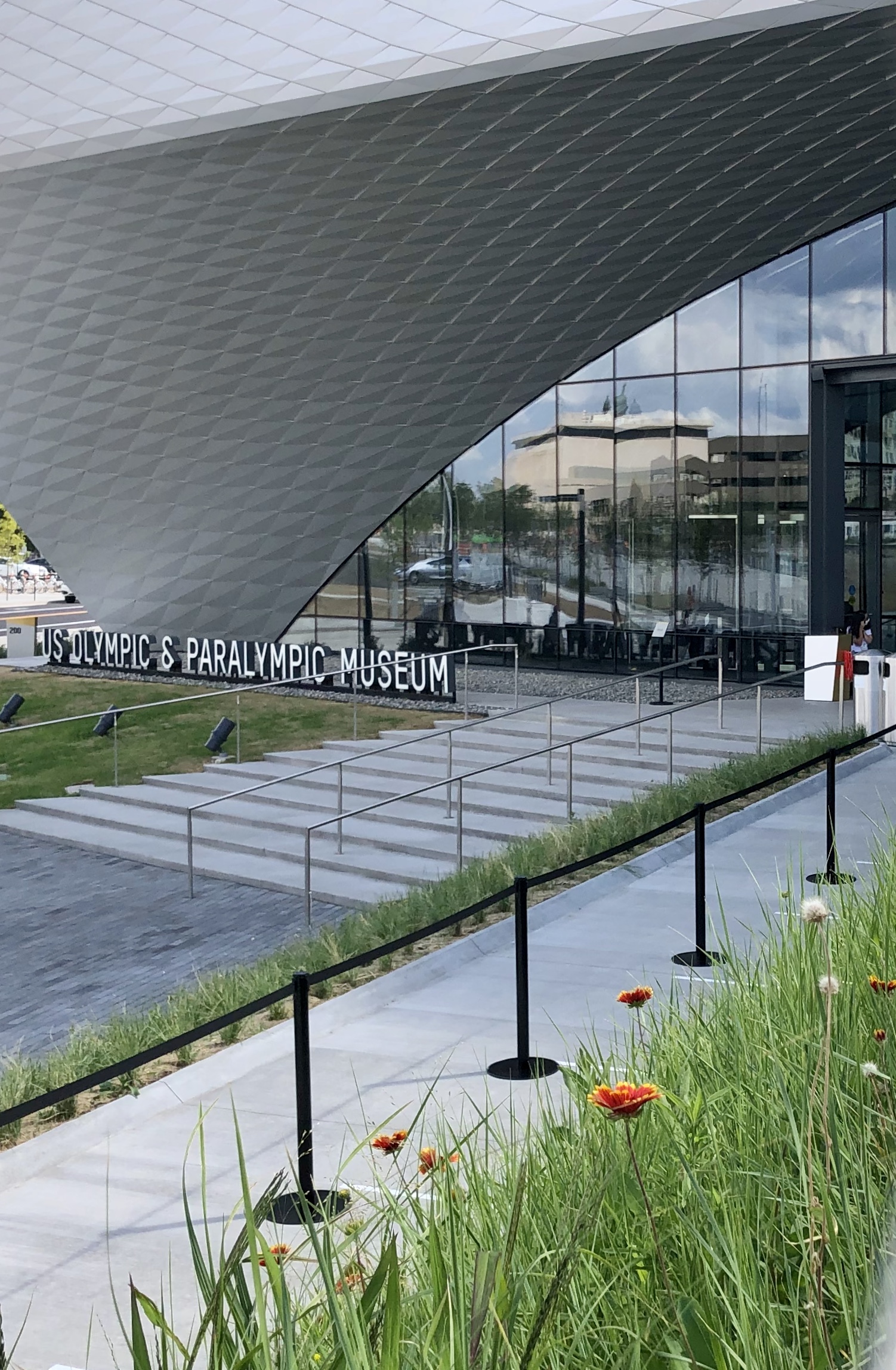 As you approach the museum, what strikes you first is the skyward modern architectural shape, which during the design of the building, received an Architectural Digest recognition for "leading design-forward museums" in 2020. Of the 10,000 individual diamond panels, no two are the same size or shape. The exterior landscaping surrounding the museum, complements the theme of the building and takes advantage of a city-scape to the east and views of America's Mountain, Pikes Peak, to the west. U.S. Olympic flags and banners line the walkways, symbolizing the pride associated with the Olympic Games.
From U.S. Olympic figure skater Peggy Fleming to speed skater Bonnie Blair, track and field's Jesse Owens to Paralympian alpine skier Tyler Carter, the new U.S. Olympic & Paralympic Museum shares the history and celebration of our U.S. Olympic and Paralympic competitors.
According to the Museum's website at www.usopm.org, "The Museum's vision is to ignite, inspire and reinforce Olympic and Paralympic hopes and dreams – both today's and future ones — through physical, digital, and virtual experiences that are engaging, relevant, and authentic for every visitor from nearby, across the nation, and around the world."
This 60,000-square foot facility features athlete stories and displays of artifacts, combined with accessible technology in a state-of-the-art museum. 12 interactive galleries and ramped pathways take guests on a journey of Olympic history for U.S. Olympians and Paralympians. What also makes this museum unique, is the effort that was expended to accommodate all ages and all needs, with elevators and ramps, open captions, audio-descriptions, assisted listening capabilities and more, a design in which Team USA athletes consulted in the process. The museum is also ADA compliant throughout.
In addition to the museum, you'll find a gift shop and a casual restaurant, named appropriately "Flame", which offers fresh-made items during museum hours and boasts views of Pikes Peak from the restaurant seating area, both inside and on an outside patio.
Cost of admission is $24.95 for adults and discounts are offered for seniors, military and children. For hours and details, visit usopm.org. The website also includes athlete highlights, stories and more information. The U.S. Olympic & Paralympic Museum is easily accessible from Holden House 1902 Bed & Breakfast Inn and short one-mile drive to the east in downtown Colorado Springs. Colorado Springs is also home to the U.S. Olympic Training Center, located approximately five miles from Holden House. The City of Colorado Springs is proud to use the name Olympic City U.S.A. in honor of the location of the U.S. Olympic Committee, also providing a great location for athletic training facilities and governing bodies.