There's no time like the holidays to enjoy some great activities around the Pikes Peak Region, especially while staying at Holden House 1902 Bed & Breakfast Inn, just a few minutes from downtown, historic Old Colorado City and Manitou Springs.  Here are just a few of the upcoming area events you'll want to attend as we "ring" in the Season!
I LOVE LUCY® LIVE ON STAGE December 2-3, 2014 is the brand-new hit stage show adapted from the most beloved program in television history! Coming to Colorado Springs, December 2-3rd. It's 1952 and you are a member of the studio audience awaiting the filming of two hilarious and oh-so-familiar I LOVE LUCY® episodes. Imagine stepping back in time onto the Desilu Playhouse soundstage where a charming host entertains and enlightens you to the behind-the-scenes filming process, the 1950s hi-fidelity technology and this brand-new thing called "television." The episodes begin and you witness, firsthand, the side-splitting antics of that crazy redhead in the Ricardo's New York apartment and thrill to the Cuban sounds of "The Ricky Ricardo Orchestra" at the famed Tropicana Nightclub. In-between scenes? The Crystaltone Singers perform live advertising jingles of the show's newest sponsors in perfect 50s style harmony. Can you say "Brylcreem?!"
HOLIDAY GALA ARTWALK IN OLD COLORADO CITY December 5, 2014 – Visit
Old Colorado City's ArtWalk featuring hundreds of artists for the 9th year along W. Colorado Avenue, for a special Holiday Celebration. Hundreds of art pieces may be viewed for purchase in dozens of art galleries and studios. Colorado Springs' largest concentration of galleries is found within three city blocks along West Colorado Avenue, between 23rd and 27th Streets.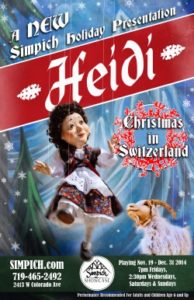 HEIDI performed by Simpich Marionettes November 19-December 31, 2014 – Utilizing a new and remarkably unusual staging concept, puppeteer David Simpich brings to the 2014 Holiday Season a brand new adaptation of Johanna Spyri's beloved novel, Heidi. The play will be performed throughout the season in the Simpich Theatre.
Near the modest hut of the "Alm Uncle" nestled below the snowy Swiss Alps, the adventures of a young girl named Heidi begin.
HOLIDAY MURDER MYSTERY December 10 –  Antler's Holiday Party, featuring the premiere of the "Ghosts of Little London" , a murder mystery performed by Red Herring Productions. A perfect holiday event for family, busineses or friends looking to get together and celebrate in a big way. Ticket price includes the Antler's Holiday Buffet, by the award winning executive chef and team, interactive murder mystery, and is inclusive of service charge and tax.
For more information on other area events and happenings: www.PikesPeakCenter.com or www.PeakRadar.com